Table of Contents [Open]
Over 23 years after the release of the original version of The Sims, those loveable digital avatars of humanity's aspirations and basic needs remain in the hearts and minds of countless Americans. With The Sims 5 in the "early stages of development", a whole new generation will be able to experience the joys of building and furnishing homes in this iconic game.
At Solitaired, we surveyed Americans nationwide to learn more about their love of The Sims and used AI to imagine what a Sim and their home would look like in every state in the U.S.
Over 1 in 4 Americans Play The Sims Today
The Sims is considered one of the most popular computer games of all time, and it's no surprise: 84% of Americans have played "The Sims." Over 1 in 4 (26%) play The Sims currently, with Gen Z leading the crowd at 37% playing the life simulation game today. Behind them are the 24% of Millennials who practically grew up with the franchise, while only 20% of Gen X and 21% of Boomers currently play the game.
The Sims 5 is still in the early stages of development, but it still has a built-in audience; 28% plan on acquiring it upon its release. Gen Z is most excited, with 30% planning on getting the game, while Boomers are more subdued, with only 1 in 5 planning on doing so.
Favorite Versions and Modes of The Sims
There have been four versions of the game so far, and the most recent, The Sims 4, is the most popular. Popularity evidently corresponds with chronological order: the original game, The Sims, is only popular with about 1 in 5, despite being the game that started it all.
The Sims has three core modes of gameplay: building and furnishing homes, helping your not-very-autonomous Sims navigate life in "live" mode, and, in later games, exploring the broader neighborhood and affiliate worlds of The Sims with their non-player characters and plotlines. Building and furnishing homes is by far the most popular aspect of gameplay, with 51% of those surveyed preferring it, followed by 32% enjoying the social interactions, and just over 1 in 6 enjoying exploration.
There's another joy in gameplay, with a darker twist. The survey revealed that 47% have intentionally killed their sims. That translates to 1 in 2 women and about 44% of men choosing to end the lives of their characters. Watch out for those swimming pools!
While we anxiously await the next iteration of this beloved game, we used AI to pay homage to this nation of Sims players: here see Midjourney make a Sim (and their house) from each state.
AI Makes a Sim for Every State
Alabama
Alaska
Arizona
Arkansas
California
Colorado
Connecticut
Delaware
Florida
Georgia
Hawaii
Idaho
Illinois
Indiana
Iowa
Kansas
Kentucky
Louisiana
Maine
Maryland
Massachusetts
Michigan
Minnesota
Mississippi
Missouri
Montana
Nebraska
Nevada
New Hampshire
New Jersey
New Mexico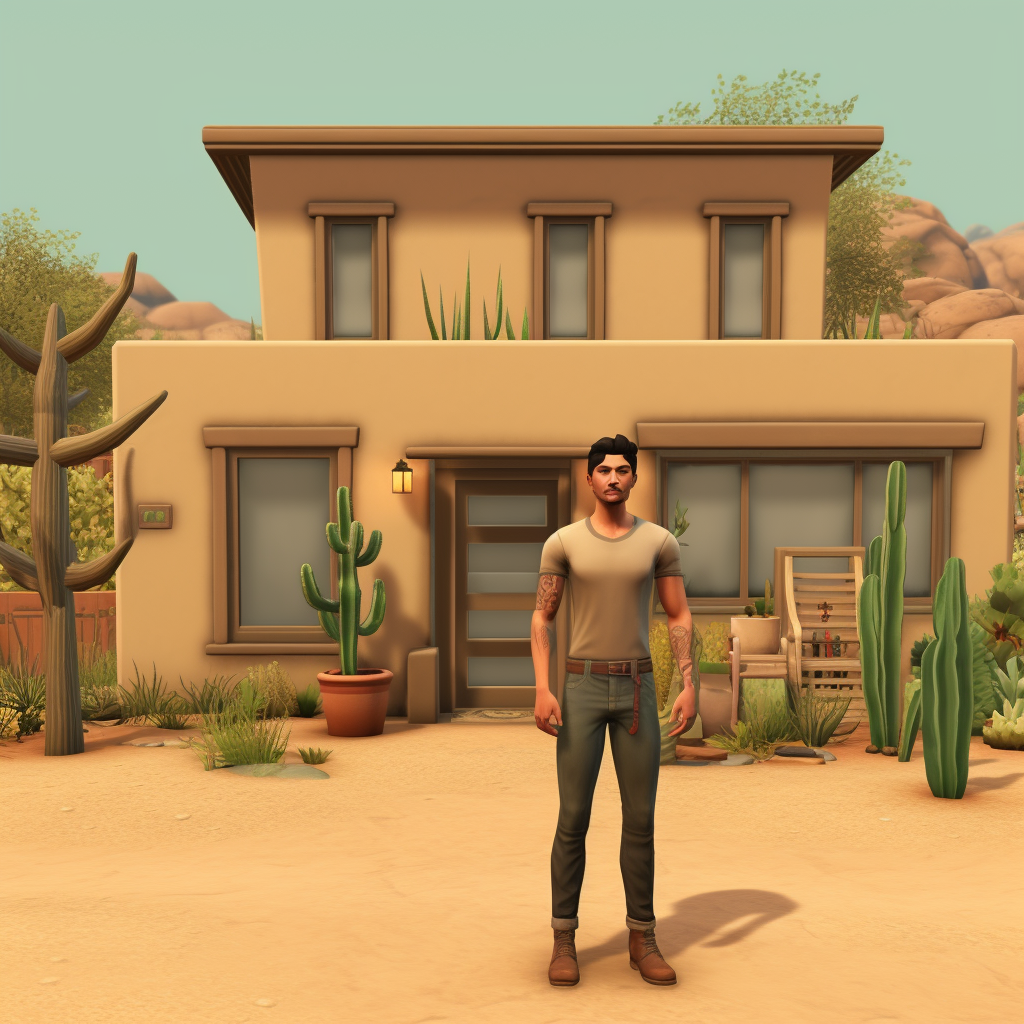 New York
North Carolina
North Dakota
Ohio
Oklahoma
Oregon
Pennsylvania
Rhode Island
South Carolina
South Dakota
Tennessee
Texas
Utah
Vermont
Virginia
Washington
West Virginia
Wisconsin
Wyoming
Methodology
In September 2023 we surveyed 805 Americans nationwide on their preferences around The Sims gameplay. Respondents ranged from 19-80 with an average age of 36. 50% were men, 46% were women, and 4% were non-binary.
To develop the imagery, we used Midjourney version 5.2 and used the same initial prompt for every state.
From here, we used in-app commands to vary and upscale imagery to fit our needs. We prioritized accuracy to the look and feel of "The Sims 4" specifically as well as popular architectural styles and palettes in each state. We also sought to eliminate any typical AI-generated errors, like extra appendages or poor facial construction.
Fair Use
When using this data and research, please attribute by linking to this study and citing Solitaired.